Leading the Lakeshore in Exceptional Health Care
Holland Hospital has been the lakeshore region's independent health care leader for 105 years. We believe that care for the lakeshore community should come from the lakeshore community.
The Holland Physician Hospital Organization (PHO) — comprised of Holland Hospital, Holland Hospital Physician Offices and Independent Physician Offices — coordinates the delivery of quality, value-based health care by bringing together providers to create a connected medical community focused on improving care and patient outcomes.
Need a primary care provider or a specialist?
We have you covered with primary and specialty provider offices at convenient locations across the lakeshore area. See the maps below then click on the office name or call the number listed to access exceptional health care.
You can also search:
hollandhospital.org>Find-a-Doctor
hollandpho.org>Find-a-Provider
Primary Care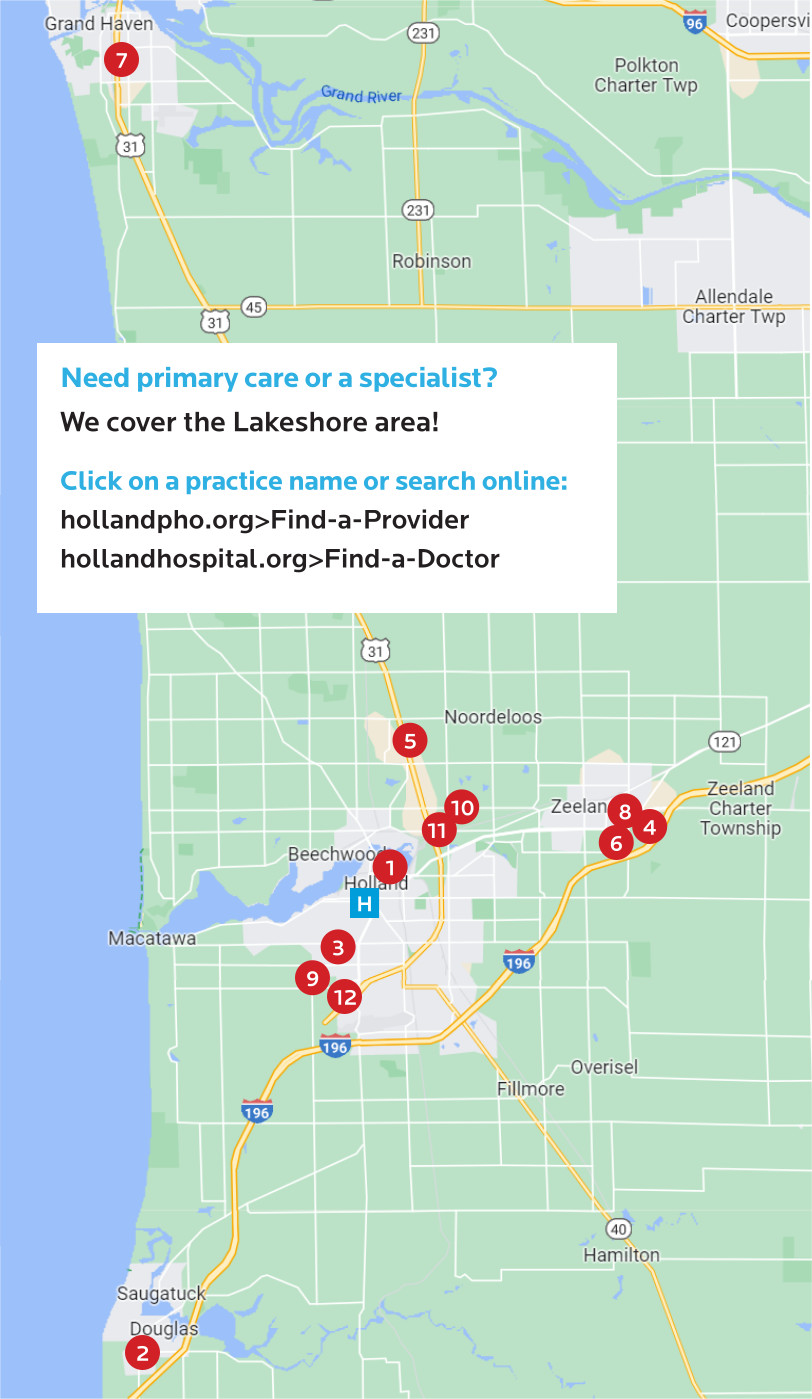 Specialty Care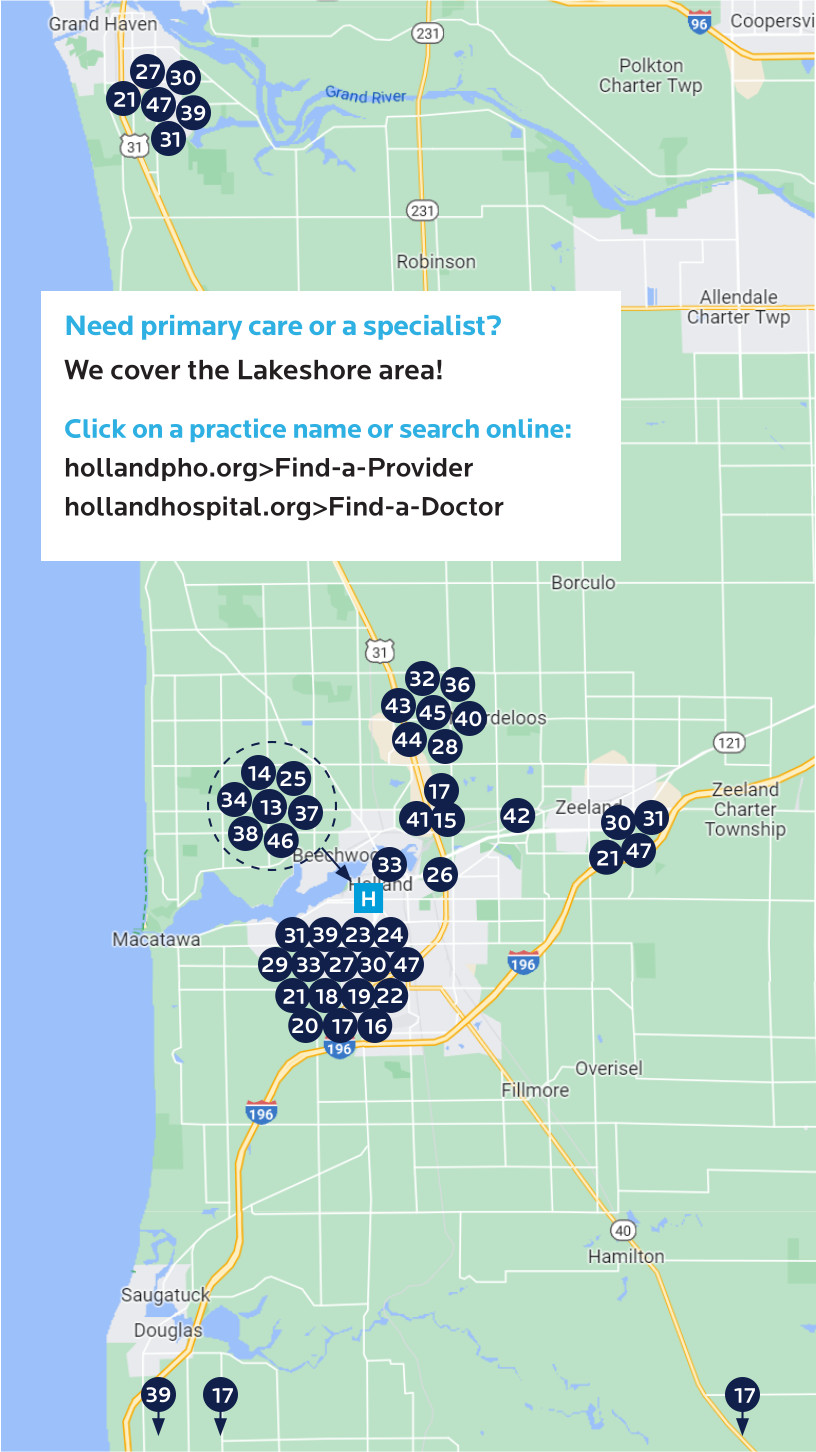 EPI – Emergency Physicians, Inc.
Holland Hospital Main:

(616) 392-5141

Grand Health Partners – Bariatric Services
Holland Hospital; GHP

(616) 956-6100

Holland Dermatology


(616) 738-3997

Holland Eye Surgery & Laser Center


(616) 396-2316




Optical Center: (616) 396-3553

Holland Foot & Ankle
Holland North:

(616) 738-1300


Zeeland:

(616) 772-1070


Holland South:

(616) 392-7472


South Haven, Allegan:

(866) 392-7472

Holland Hospital Behavioral Health Services
Outpatient:

(616) 355-3926


Inpatient, Holland Hospital Main:

(616) 392-5141

Holland Hospital Bone Health
(616) 393-5336
Holland Hospital Breast Care Services


(616) 355-3865

Holland Hospital ENT & Allergy and Audiology
Holland, Zeeland, Grand Haven:

(616) 393-2190

Holland Hospital Endocrinology


(616) 395-2833

Holland Hospital Gastroenterology


(616) 546-9093

Holland Hospital General Surgery


(616) 394-0673

Holland Hospital – Hospital Medicine, Adult and Pediatric
Holland Hospital Main:

(616) 392-5141

Holland Hospital Lifestyle Medicine


(616) 494-8387

Holland Hospital Neurology
Holland, Grand Haven:

(616) 396-7366

Holland Hospital Pain Management


(616) 738-3884

Holland Hospital Pulmonary & Sleep Medicine


(616) 395-2853

Holland Hospital Rheumatology
Holland, Zeeland, Grand Haven:

(616) 393-533

Holland Hospital Sports Medicine
Holland, Zeeland, Grand Haven; New patients:

(616) 394-3200

Holland Hospital Urgent Care


(616) 494-4250;

8 AM – 8 PM, 365 Days a Year
Holland Hospital Women's Specialty Care


(616) 748-5785

Holland Hospital Wound Care


(616) 494-4251

Hospice of Holland / Keystone Medical Services
Hospice:

(616) 396-2972


Palliative Care:

(616) 396-5444

Lakeshore Allergy


(616) 738-4262

Macatawa Anesthesia
Holland Hospital Main:

(616) 392-5141

Michigan Pediatric Hospitalists
Holland Hospital Main:

(616) 392-5141

Ob/Gyn Associates of Holland
North Holland, South Holland, Grand Haven, South Haven:

(616) 392-5973

Plastic Surgery Arts of West Michigan


(616) 738-5870

Shoreline Orthopaedics


(616) 396-5855

Sight Eye Clinic


(616) 772-2020

Suzette J. Sanchez, DO, Dermatology


(616) 399-9040

The Bone & Joint Center
A Holland Hospital Physician Office

(616) 738-3884

The Brain + Spine Center


(616) 738-4420

Western Michigan Pathology Associates
Holland Hospital Main:

(616) 335-3349

Western Michigan Urological Associates
A Holland Hospital Physician Office
Holland, Zeeland, Grand Haven:

(616) 392-1816